Learner Driver insurance that rewards good drivers
If you're a learner with your own car, ingenie black box insurance gets you started earning your no claims discount. It can also save you money at renewal when you drive safely. The road is waiting. Let's go.
How does Learner black box insurance save you money?
Save £260 upfront
Our drivers save an average of £260 when they insure with us.*
Start earning NCD straight away
Feedback every 10 days, reduce your chance of having an accident and earn your No Claims Discount.
Save at renewal
Save an average of £401 when you renew for a second year.**
No night-time curfews
Fully Comprehensive Cover
Cover before and after passing your test
*Based on all ingenie customers, Aug 2020 - April 2021 **Based on all ingenie renewals at end of first year, May 2020 - April 2021.
Learning in someone else's car?
Drive someone's car from £1.49 a day*
Flexible cover (1 month to 6 months)
The car owner's NCD is protected
* Average daily price based on all policies sold between July 2020 - Oct 2020.
Driving feedback that helps you get your discounts
Your ingenie black box Insurance policy comes with our easy feedback app. You'll get a driving score out of 100 and feedback on your speed, acceleration, braking and cornering every 10 days. We want our drivers to stay safe on the roads, so we help our customers as much as we can to achieve the best feedback and maximum score.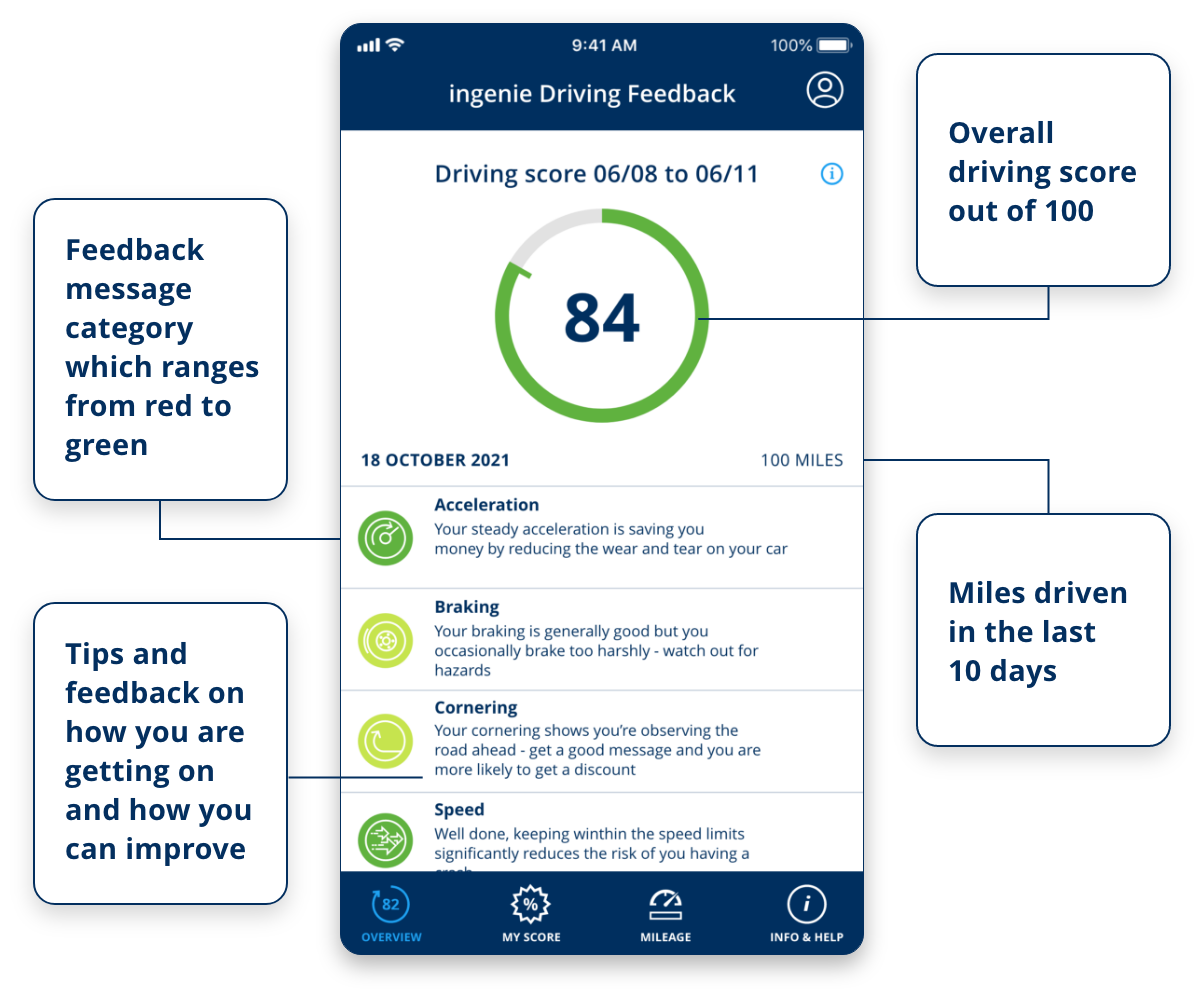 This shows you how the app looks but the score and feedback will be different for each driver.
No dramas when you pass your test
When you've got an ingenie box learner car insurance policy, all you need to do when you pass your test is give us a call and we'll run a quote to switch you to a qualified driver insurance policy. You'll continue working towards your No Claims Discount and there's no hassle switching to a different insurer.
What our customers say about us